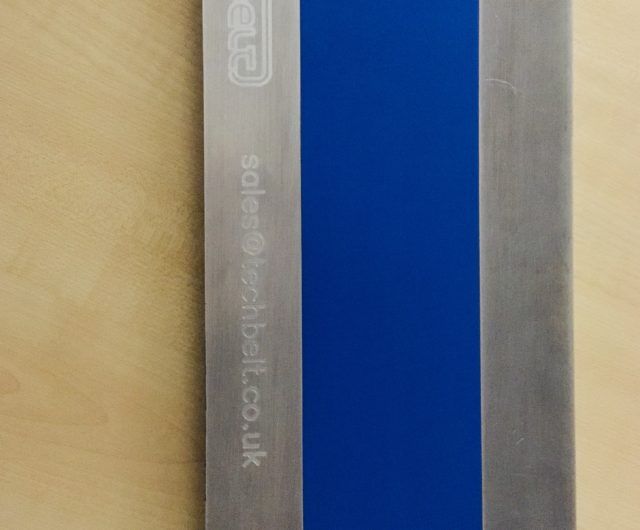 PTFE Teflon Belt Joint Welding Jig
PTFE Teflon Belt Joint Welding Jig
Here is a quick look at our PTFE Teflon belt joint welding jig we made for a customer recently.
What did you make it for?
We made it to enable a customer to be able to join together a PTFE Teflon conveyor belt that was aligned with paralell edges.
Why does the customer need a jig to do this?
When joining a PTFE belt in our workshop we have all the tools and space to be able to do this which makes the task much easier for the skilled belt fabricator. The difficulty comes when you are trying to do this on a machine. Working on a machine can mean tight spaces which makes it much more difficult to work. The other issue that can arise is holding the two ends together. The jig we have made has two dowels that allow very small holes in the belt to hook in position which hold it in place and with perfect alignment.
What is the jig made from?
The jig is made from aluminium. Aluminium means we can keep the weight of the jig low so it is easy to handle when on site. The blue section is a food grade silicone sheet. This us used a soft heat barrier when welding the joint together with our HWI-155 welding iron.
Can you make a jig for my requirement?
Yes we can. Please get in touch with your belt details and we can discuss what needs to be done to make you a PTFE Teflon belt welding jig.
What is the time for this?
After we have agreed the style you need we can usually make these within three to four weeks from order. If you require anything sooner please let us know and we will do what we can to improve upon the lead time.
Related posts
Recent Tweets
Dewatering Belt https://t.co/clUaph5DsB

4 months ago

How to make a butt joint on a blue PTFE (Teflon) conveyor belt with capping strip: https://t.co/b91dN5wM4A via @YouTube

4 months ago

How to bond two layers of PTFE (Teflon) Coated Kevlar together: https://t.co/mmI5nXC7c8 via @YouTube

4 months ago
Newsletter
Subscribe to our weekly newsletter now. Enter your email and name and click subscribe