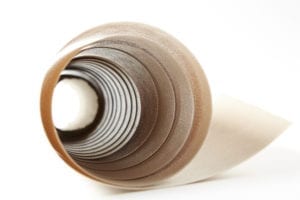 PTFE coated glass cloth comes in a variety of thickness and styles. We tend to split them in to a few different products types.
Open Mesh Glass Cloth
This type of PTFE coated glass cloth is woven in a mesh or net. There are a number of opening sizes however 4mm x 4mm is the most popular.
Other examples are 1mm, 2mm, 5mm adn 10mm square mesh apertures.
We take our open mesh roll stocks and produce conveyor belts that have reinforced edges and a mechanical fastener.
Closed Weave Glass Cloth
Closed weave glass cloth materials are non mesh type materials. This version is available in multiple thicknesses and can be specified by our Technical sales team depending your application and requirement.
Closed weave glass cloth tends to be woven with what is referred to as a "twisted yarn" glass cloth. This provides a stronger yarn and is ideally suited when using this material as a conveyor belt.
Different coating mixtures and colours are available. For example, Blue colour is popular when used on food processing lines.
PTFE Coated Glass Cloth Tapes  
These materials are also like the closed weave glass cloth materials but tend to be thinner. The other difference is they are made with a glass cloth that is referred to as a "singles" grade. Unlike the "twisted" grade, this is now wound as much therefore is not as strong.
This coated glass cloth is ideal for making in to self adhesive backed tapes. In order to do this, silicone or acrylic adhesive is applied to use surface. The surface being applied to needs to be chemically etched in order to allow the adhesive to bond to the otherwise non stick surface.
Please feel free to contact us with any Technical queries you may have and we will do everything we can to assist.
Buy Online
Shipping Information
EUROPE & WORLDWIDE SHIPPING
We are happy to ship goods Worldwide, the cost of this will be dependent on the location and either the volumetric weight or the product weight including packaging whichever is the greatest, the cost of this will be confirmed at quotation stage of your order. For more information visit
Techbelt Worldwide Shipping Information Page