Teflon Conveyor Belt
A Teflon conveyor belt has the same coating that is used on non stick cookware. Just like on cookware, it offers super non stick surface and can resist high temperatures.
Teflon is a brand name of Dupont for their PTFE product range.
Non stick coatings are what make our products unique. Because our conveyor belts are coated with PTFE and Teflon, they can be used in demanding applications.
A Teflon belt can be used for cooking foods. Another example would be carrying textiles through hot ovens. Some textiles are carried through ovens in order to remove moisture from the fabric.
Lots of other applications require Teflon Belting. Companies that produce tortilla and flat breads have a high demand for them. The belts being used require special coatings. The coating assist with a longer life.
We manufacture all types of Teflon mesh belting here at our facility in the UK. Teflon mesh belts can be made using a number of different mesh sizes. We can also make them with different mesh sizes.
We can produce a Teflon conveyor belt to suit all machine sizes. Some PTFE mesh belts can be made over five meters in width.
We produce belts in different colours. This depends on the applications they are being used in. Blue coloured belts are more commonly used for processing food.
Key features are that Teflon belts are heat resistant and non stick. They can withstand temperatures of up to 260 Celsius and as low as -73 Celsius.
The non stick properties ensure that products are easily removed from the belt surface. The term easy clean is more appropriate than non stick.
Techbelt manufactures a wide range of belts and work end users as well as OEM's.
We have a dedicated Technical Sales Team who can assist with any query you may have.
Contact our office on +44 (0) 1422 366386 or e mail sales@techbelt.com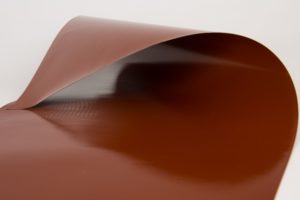 Search
Recent Tweets
Home https://t.co/XAC5jVuCbx

3 months ago

We have thousands of square metres of PTFE coated glass cloth materials. 4mtr wide stock rolls. #fastleadtimes… https://t.co/uq0BVWasbH

6 months ago

Dewatering Belt https://t.co/clUaph5DsB

10 months ago
Newsletter
Subscribe to our weekly newsletter now. Enter your email and name and click subscribe